A stroll down The Marina is popular by many people. The area is particularly characterized by its location on the River Lee and the start of Cork Harbour. Here scenery, historical monuments and living heritage merge to create a historical tapestry of questions of who developed such a place of ideas.
Where not all the answers have survived, The Marina area is lucky, unlike other suburbs, that many of its former residents have left archives, census records, diaries, old maps and insights into how the area developed. These give an insight into ways of life and ambitions in the past, some of which can help the researcher in the present day in understanding The Marina's evolution and sense of place going forward. Take a walk with us and discover more.
All you need is your smartphone and some headphones.
The audio trail starts at the very western end of The Marina, near Shandon Boat Club.
Download The Marina map as a Jpeg so you can easily follow the route. Have fun!
By Cllr Kieran McCarthy in association with the 2021 Cork Harbour Festival.
Click on below map to download the JPEG in a second tab: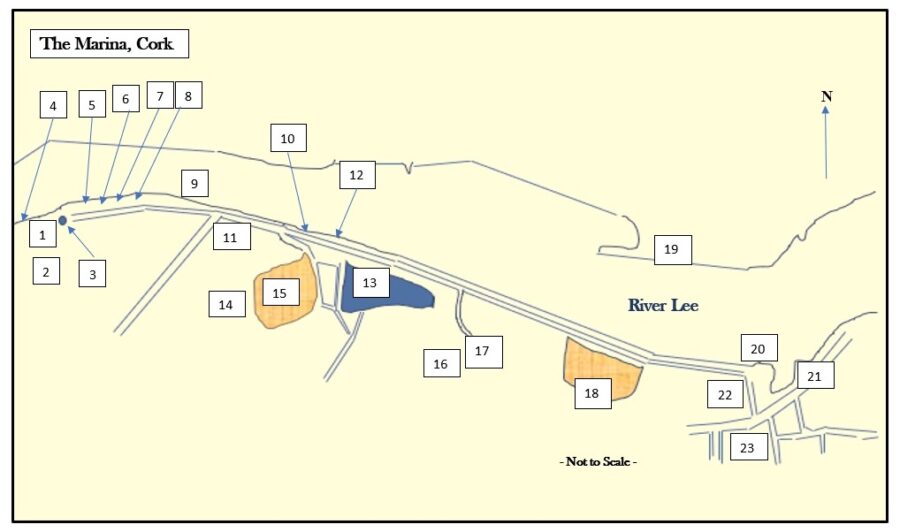 Take the Bridges of Cork Heritage Audio Trail here, 1. Bridges of Cork Audio Heritage Trail | Cork Heritage