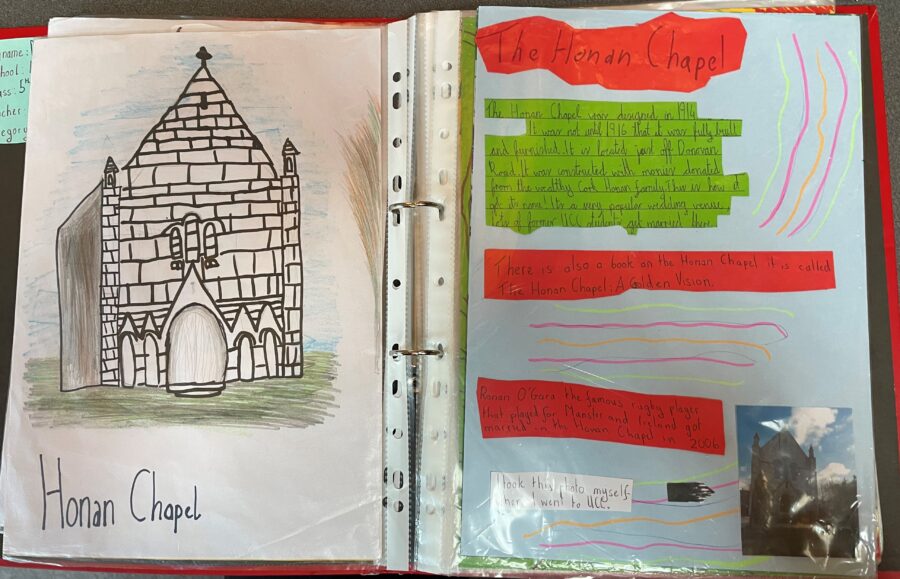 Categories
(1) The entrant/s will be placed in categories or levels, of which there are four, Fourth Class, Primary Senior, Junior Certificate and Leaving Certificate.
Fourth Class is open to fourth class students
Primary Senior Level is open to fifth and sixth class students.
Junior Certificate level is open to first, second and third year students.
Leaving Certificate level is open to fourth/transition, fifth and sixth year students.
(2) There are to be three further categories of entrant;
individual, group (min 2-max 4 people) and class entry.
(3) A school may enter as many class, group or individual entries as it wishes.
(4) Special Need categories will be created on the basis of interest by teachers and applications received.
Project Presentation
(1) Projects should be neatly presented, either handwritten or typed (word-processed) in a project portfolio (e.g. a binder). If hand-written, text should be legible. Text can be in English or Irish.
(2) There are no restrictions on the size of the project – portfolio.
(3) No previous winning project in the Discover Cork: Schools' Heritage Project (2002/3-2020) can be entered. Building upon previous non-winning projects is allowed.
(4) Project books (folder-portfolio) should have at least an introduction, a main body and a conclusion. In general, the main body should have 3-4 small chapters. Sources should also be highlighted.
(5) There should be a balance between illustrations (photographs, hand-drawn pictures, maps) and text. The making of models is also encouraged. These can be shown to the co-ordinator at the time of the school visit. Photographs of all models should be included in project books.
(6) Lengthy passages of text should be avoided. Pasting text from local history books or internet sites into projects is not recommended. Text should be in students' own words.
(7) Prizes will be awarded to projects that are of a high standard and in particular, which demonstrate colour, creativity, imagination, opinion use of publicity and understanding and appreciation of the researched topic.
(8) All original projects will be returned at the awards ceremony night.
(9) The generation of publicity is a key part of the marking scheme for the Project. This allows for maximum acknowledgement of the participating student's work and brings the Project into the public realm.
Prizes
Trophies and book tokens will be awarded to the first three in each category and level. Prizes are kindly sponsored by Cork City Council & Cllr Kieran McCarthy. In the class category, class workshops for the entire winning class are kindly sponsored by the Old Waterworks Experience, Learnit Lego Experience and Seán Kelly at Lucky Meadows Equestrian Centre, Watergrasshill.
Special prizes will be awarded in the following:
a. The school whose overall projects are of a high standard
b. The best model entry (Cork Civic Trust Perpetual Trophy)
c. The best project on rail history of Cork (Iarnród Éireann perpetual trophy)
d. The best short film made
d. Best individual projects (digital cameras sponsored by Cllr Kieran McCarthy)