Watch Kieran's Youtube video with the Glucksman gallery on early twentieth century Cork
Cork's contribution to the Irish Republic was not only in blood. Sean O'Faolain, one of Ireland's great writers, was a Corkman. Born in the heart of the city in 1900, he was the son of a RIC constable. As a young man, O'Faoláin became committed to the cause of the IRA. He served as a bomb-maker and then as Director of Publicity. After the War of Independence, he took up a fellowship at Harvard. In 1932, he founded the Irish Academy of Letters, along with GB Shaw, WB Yeats, Frank O'Connor and number of other important literary figures.
Sean O'Faoláin's first novel, A Nest of Simple Folk, was published in 1933 to great critical acclaim. However, it was to be his short story writing that made him widely known. In his career, he penned four novels and numerous shorts stories. He also wrote a number of biographies, including his own entitled Vive Moi! in 1965. He penned several travel books and works of literary criticism. During the first half of the 1940s, he edited the distinguished literary magazine, The Bell. Unfortunately, throughout his career much of his work was censored, but in 1989, two years before his death, he became a freeman of Cork.
In 1905, 1906 and 1907 further local authority houses had been built: Suttons' Buildings (46 houses), Barretts' Buildings (73 houses), Kelleher Buildings (50 houses), McCurtain Villas in 1922 (76 houses), Frenches Villas in 1923 (30 houses) and McSweeney's Villas in 1923 (40 houses). All are still lived in.
Conditions in Cork were difficult after the War of Independence. Although the 1920s saw the introduction of the first car to Cork, the Model T Ford, business was not booming in general. The issue of the provision of decent social housing had yet to be satisfactorily resolved.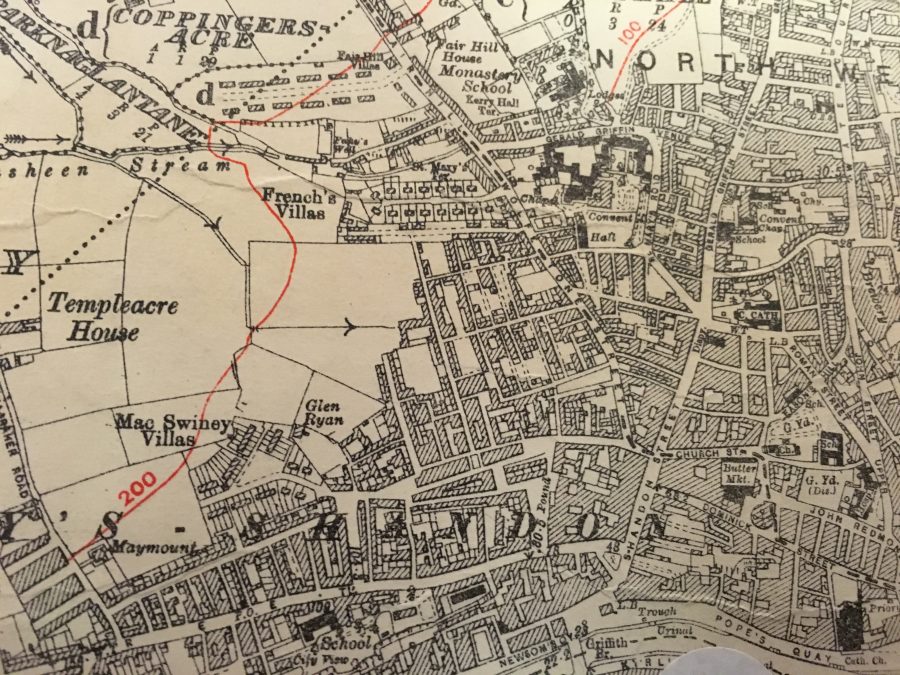 A survey published by the Cork Town Planning Association revealed that 12,850 houses were occupied by 15,469 families. One-ninth of the total population, or nearly 9,000 families, were still living in tenements. The highest mortality rates existed in Shandon and Blackpool. Many died as a result diseases such as diphtheria, scarlatina and typhoid. The suggested improvements involved re-housing on a massive scale. Cork, A Civic Survey outlined that one-fifth of the population, or 16,000 people, would have to be re-housed.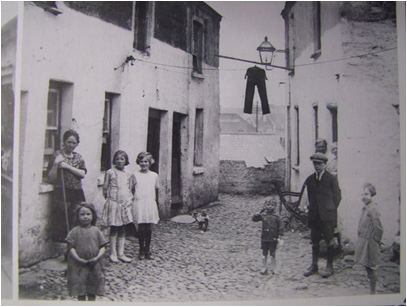 In the southern suburbs, the area of Turners Cross was quickly built up with Corporation housing, and as a result the area became a parish in 1927. Between 1928 and 1932 a new church, Christ the King, was built here. Another area of rapid development was nearby Ballinlough. It was chosen as a site for local authority housing and between 1936 and 1942, seven estates were built here.
In the northern suburbs the site chosen was Gurranabraher. Compulsory-purchase orders acquired the land for building. The project involved the demolition of many old cottages and of several laneways. The initial phase of building comprised 354 dwellings. The first 200 houses were officially opened and blessed by Bishop of Cork Daniel Cohalan on 17 March 1934. Between 1934 and 1944, a total of 1,876 houses were built by Cork Corporation, all on healthy sites, and 10,800 people were relocated from unhealthy and overcrowded areas.
Unfortunately, the Second World War forced all development to be curtailed and plunged the city into economic decline.