Welcome to the Bridges of Cork audio heritage trail hosted by Meitheal Mara and I, Kieran McCarthy.
They say the best way to get to know a place is to walk it. Through many centuries Cork has experienced every phase of Irish urban development. So there is much to see on any walk.
Cork is a place you can get lost in narrow streets, marvel at old cobbled lane ways, photograph old street corners, gaze at clues from the past, engage in the forgotten and the remembered, search and connect for something of oneself, and thirst in the sense of story-telling – in essence feel the DNA of the place.
This audio trail provides insights into the histories of the Cork city centre's bridges, their place in Cork and some of their surrounding histories.
The River Lee defines Cork and its development. It is a core artery of the city and its western region. Many have crossed over the River's bridges and have appreciated its tranquil hypnotic flow. It reflects vitality, engages the senses and presents a sense of mystery and secrecy.
The walk around the bridges is about two hours and the trail is clockwise from South Gate Bridge up the south channel and down the north channel to cross back to the south channel. It ends at Nano Nagle Bridge. There are 31 bridge stops.
The audio trail has been created that one can stay on the same river bank as much as possible without crossing several main roads on the tour. If you have to cross a road, please cross the road safely.
Above all though enjoy the journey into the bridges of Cork.
By Cllr Kieran McCarthy in association with Meitheal Mara.
Click on below map to download the JPEG in a second tab: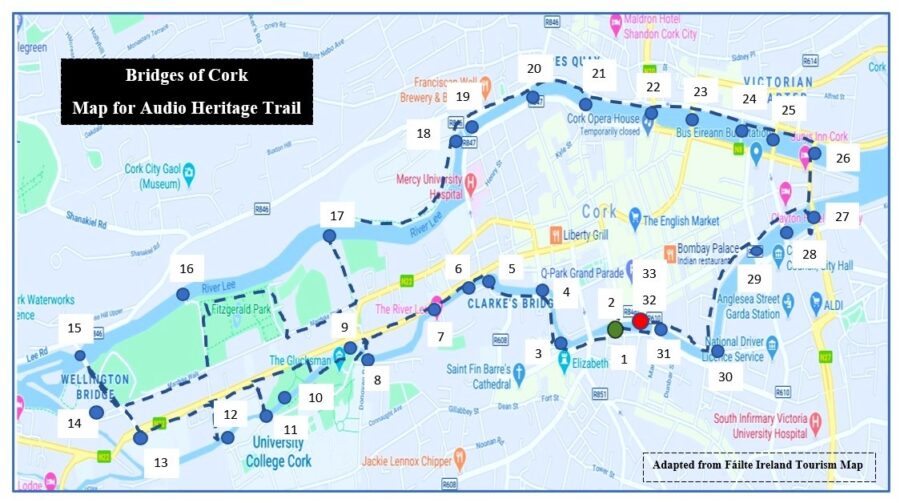 Take The Marina Heritage Audio Trail here, 2. The Marina Audio Heritage Trail | Cork Heritage