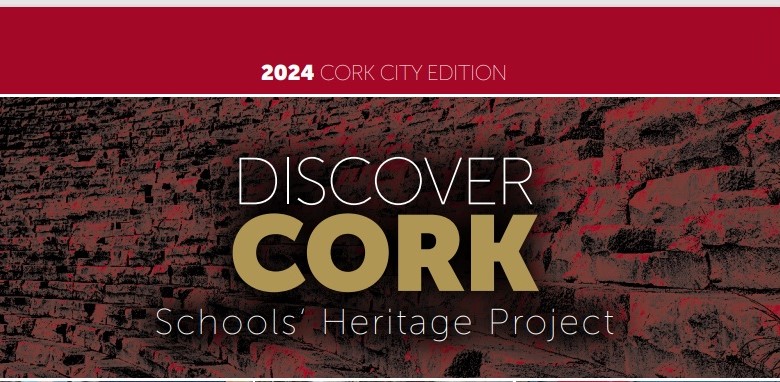 September 2023, Project Launch for Year 22!
To All Cork City National School Teachers and Secondary School History Teachers.
The Discover Cork: Schools' Heritage Project 2022-23 launches in its 22nd year in September 2023 and is open to schools in Cork City. Funded by Cork City Council, the Project is an initiative of the Cork City Heritage Plan.
The Discover Cork: Schools' Heritage Project is aimed at both primary and post primary level. Project books may be submitted on any aspect of Cork's rich past. Suggested topics are over the page. The theme for this year's project is "Cork Communities".
The fourth-class level is open to fourth class students. The primary senior level is open to students of fifth and sixth class. Post primary entrant/s will be placed in Junior Certificate or Leaving Certificate levels. The post primary level is open to any year from first to sixth year. A student may enter as an individual or as part of a group or as part of a class project.
The overall Project continues to encourage and work with Cork students in celebrating, highlighting, debating and creating fresh approaches to our cultural heritage. Research and creativity are encouraged in an effort to create relevancy, awareness and appreciation of the past amongst young people. The Project also focuses on students gaining acknowledgement and self-confidence from their work.
There are prizes for best projects – trophies, book tokens, digital cameras and school workshops to be won. Certificates will be given to all entrants.
Interested…then read on!
– The application form for the 2023/24 school season is here:
Online Presentation:
https://www.youtube.com/watch?v=g70c4rdwyfI
For further information, contact: Kieran McCarthy at mccarthy_kieran@yahoo.com